First published on Marketing Week
It wasn't too long ago that I would squeeze my feet into heels (admittedly it's been a while since a stiletto) and march to the office. Those heels felt a little like my armour. They gave me the confidence to walk into those (mostly male) rooms, and the height to stand nearly shoulder to shoulder with my (mostly male) peers. I, like Sali Hughes, probably revelled in that clichéd sense of feminine "power" that came from wearing heels each and every day.
As someone who now only very occasionally wears them, two recent observations have really made me think about the heel's growing irrelevance.
Firstly, in Cannes for the festival of creativity last month, I noticed a group of female panellists wearing glorious, yet pain-inducing stilettos and looking quite out of place amidst the sandals, trainers and wedges. It's quite some time since the heel was standard uniform at the festival (probably about the same time sales of trainers overtook those of high heels back in 2016) and seeing three pairs in a row on that panel, I felt catapulted back to a different, more awkward era.
Back in the real world, post-riviera, and the second (less glamorous) observation was when I got off at St Pancras and watched everyone scamper up the escalators on their way to work. I noticed no one was wearing heels anymore. There was a plethora of sneakers, loafers and the odd ballet pump but not a single heel. Where had all the Manolos gone?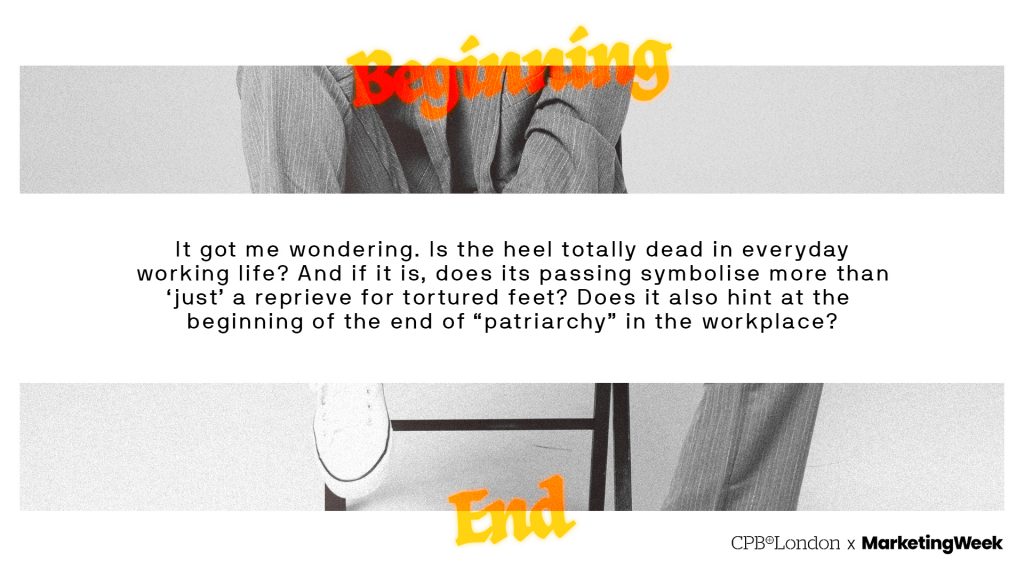 Looking back to the 80s and 90s, fashion allowed women to play the so-called man's game in the workplace – broad shoulders and high heels created a physical transformation that mimicked the alpha physical form and gave women the "right" to enter a male-dominated space on what, to them, felt like more of an equal footing – literally. It seems ridiculous now that this ever happened, but in the male-dominated corridors of power, women were expected to dress the part. Powerful, in control, all-knowing. But did those heels ever do us any good? We assumed they gave us an edge, we felt our confidence boosted.
And yet a recent study by the University of North Carolina's professor Sreedhari Desai and her team concluded that women wearing flats at work are today deemed more capable than their heel-wearing colleagues. Whilst on the one hand this is just more evidence that women's performance is still in part judged on how they look rather than what they do (and note that those questioned in the survey were both male and female), it's also a brutal finding – after all that, we were suffering the agony of heel-wearing for nothing!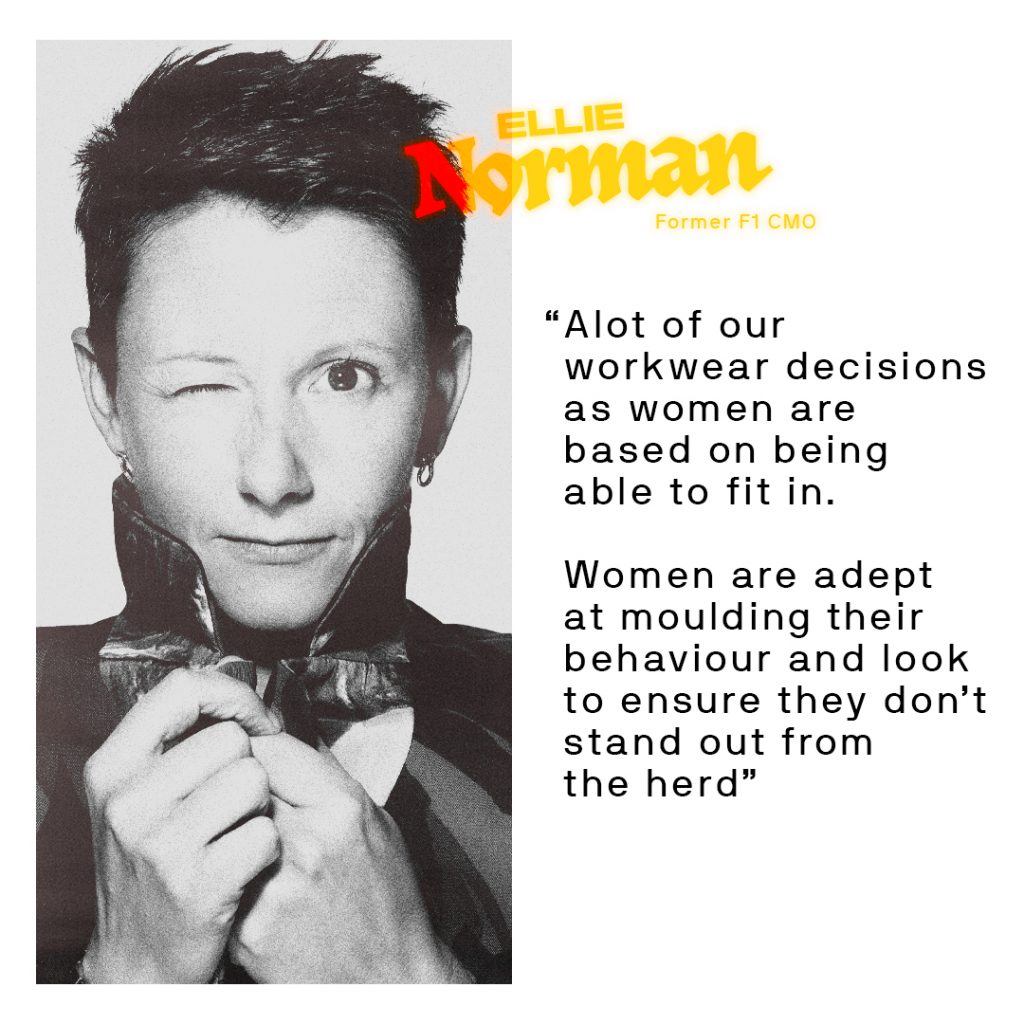 While we still do all adapt our dress codes to some degree to fit the environment we work in, things are changing. And for the better. Linda Van Aken, VP of Running for ASICS comments, "Fashion will always reflect what's happening in culture and clothes will always remain a way of communicating how you want people to perceive you – but today and tomorrow it's hopefully less about gender norms and more about how you qualify for the role you're in.
"For KLM's 100th anniversary three years ago, we even reimagined the cabin crew's footwear – this being an industry that had seen very little wardrobe progress in decades – to introduce a sneaker for their flight attendants. It felt so good to revolutionise the look and create a comfortable 7-hour shift for those women."
Many of the women I work with and have spoken to in senior marketing roles no longer feel they need to draw confidence from their wardrobes. This is no doubt in part due to a more established female leadership group, confident in their ability to deliver and so more able to cast off the armour and just get the job done. But it also reflects the shifting sands for women who want to be able to be their authentic selves at work, whatever they are wearing, and still smash it.
Louise Carter, a brand consultant with deep experience in the fashion industry, having spent much of her career working at the British Fashion Council and for London Fashion Week, thinks the way we now work has a lot to do with how we dress at work. It's about acknowledging our multidimensional selves and embracing the impact that reality has on how we work.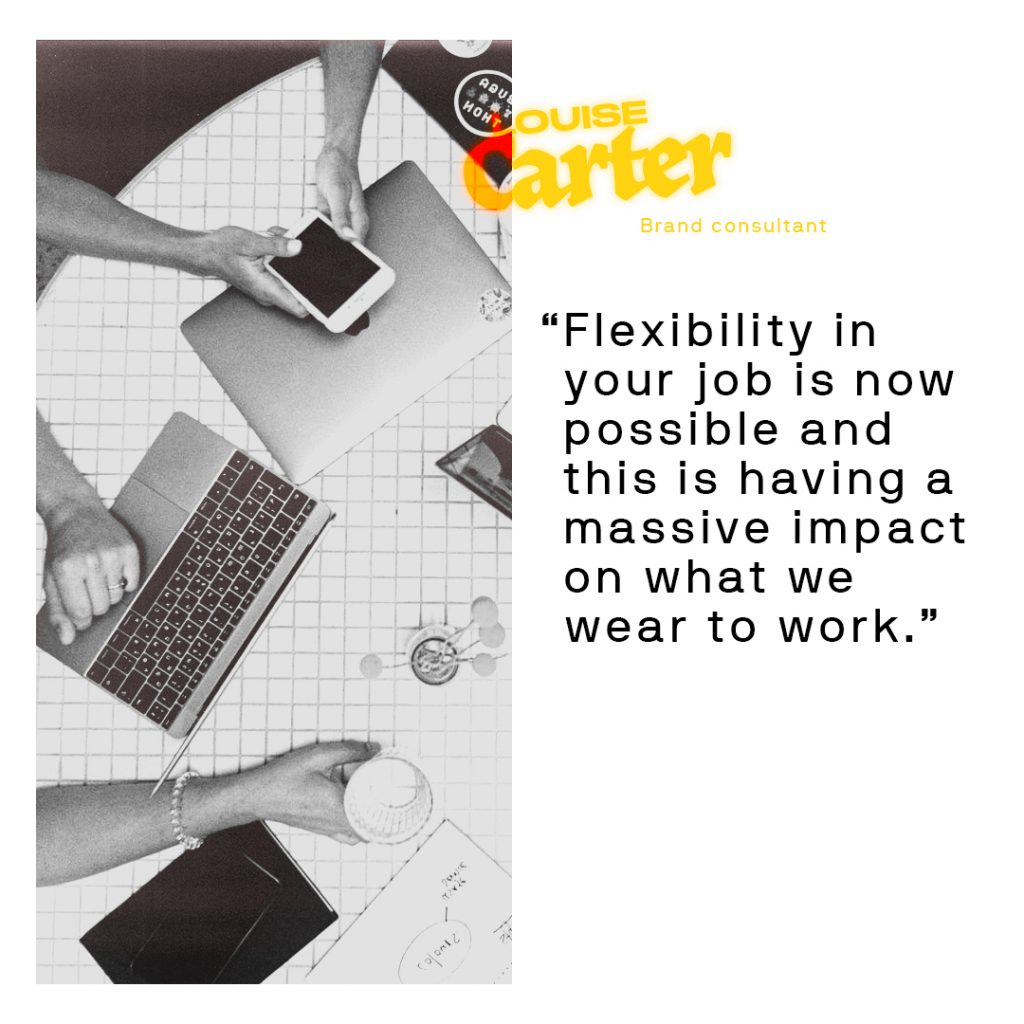 So if women increasingly feel they can be truer versions of themselves in the workplace, what of the industries that still have quite an old-school approach to what acceptable boardroom attire looks like?
"The heel is still a huge part of that idea of smart – a woman who looks well put together, professional, feminine," says Aisha Jakhura, Head of Brand for George at Asda, "but the problem is how you're defining 'professional'. A lot of it is subconscious. We have to remember that so much in the fashion world was originally designed for the male gaze – beautiful sirens, beautiful women wearing heels," she adds (and we share a jaw-drop moment as I remind her of Christian Louboutin's statement, 'I don't make heels for women, I make heels for men.")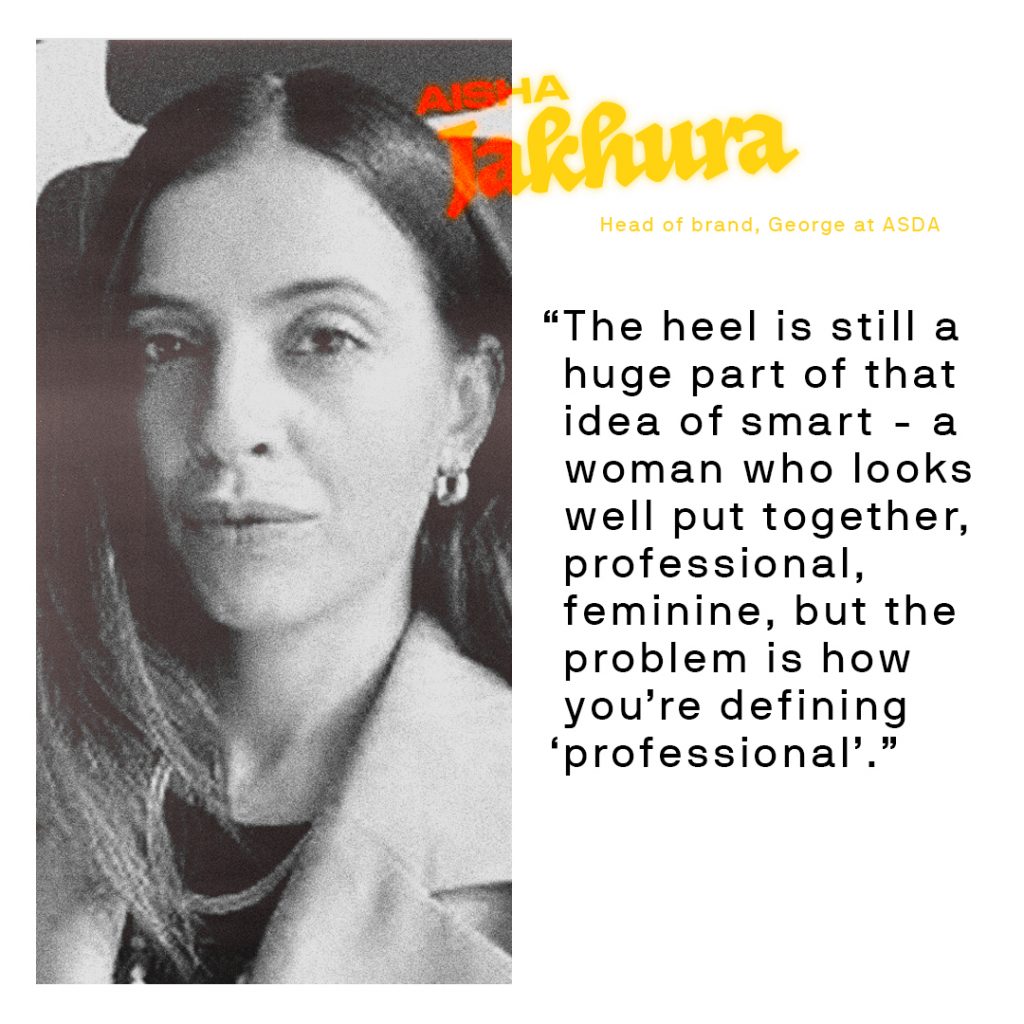 Of course, whatever industry we're in, we will always dress differently for different work occasions. There will always be big meetings where we, just like men, feel most comfortable dressing 'up' a little, but hopefully these days it's less about conforming to what someone else's idea of 'up' means. "For me, the most important thing is being authentic, that's what allows me to be able to perform at my best. There may be times when I do need to get my power suit out but it will always be teamed with a bold, bright T-shirt to make it my own," says ASICS' Linda.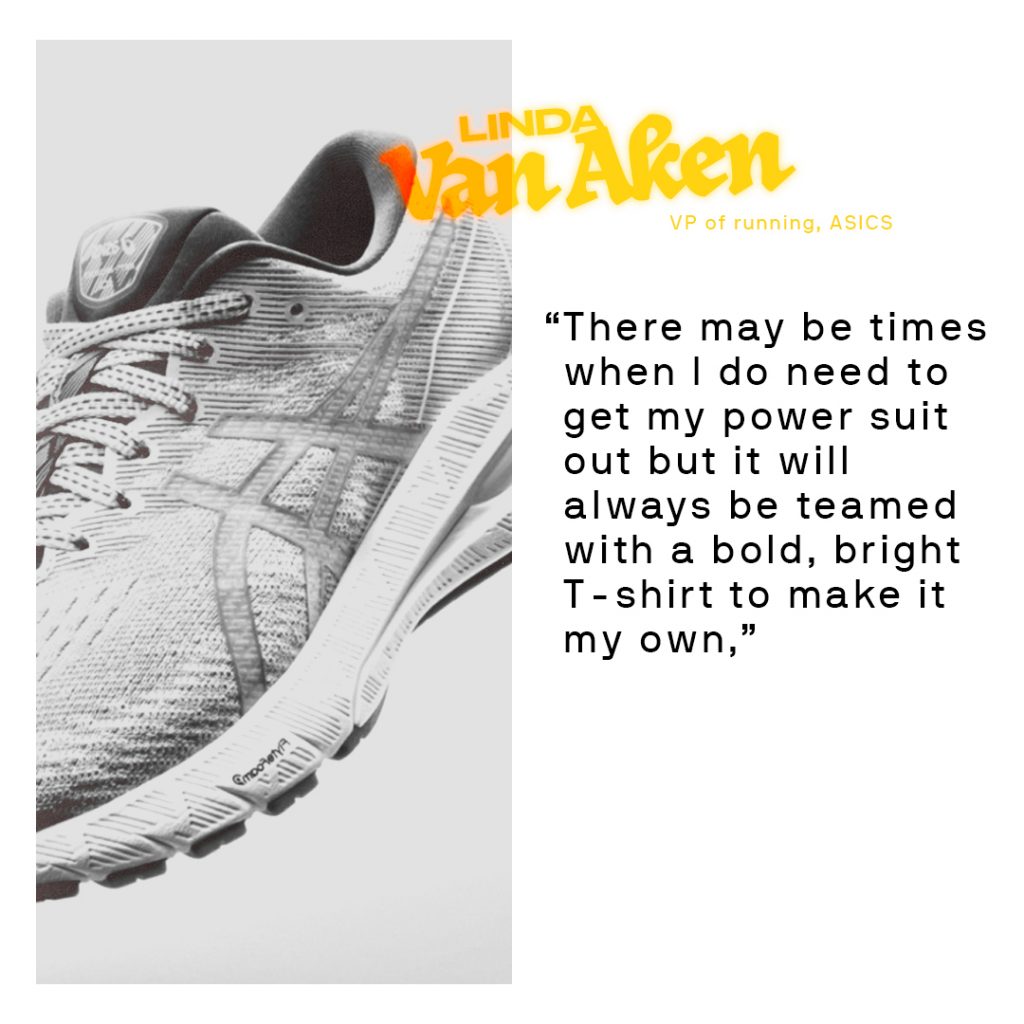 (and she never wears heels at work).
Helen James in the managing director of agency CPB London and the co-founder of Creative Equals/Business, a leadership programme and community for women in the creative industries. She is focused on ensuring more women in marketing and creative roles are able to thrive at the top.