Platform news
Here's to another month of WNIS – our monthly report where we update you on the latest news,
trends and tips in Social & Digital – helping to keep you constantly in the know.
March Highlights
---
Instagram Adds Reminder Ads and Promoted Results in Search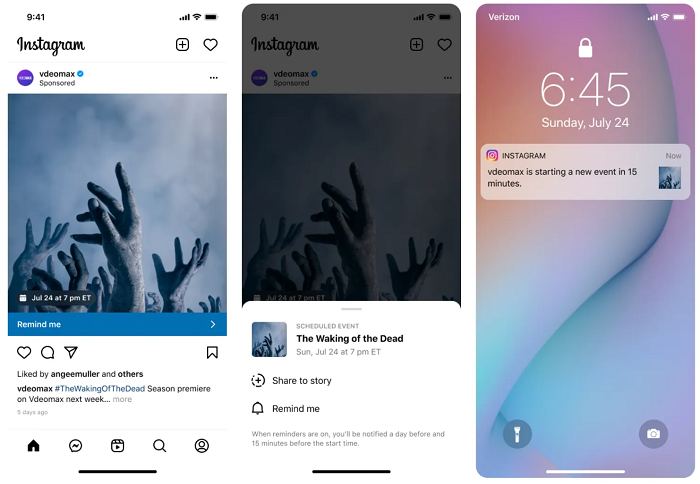 Instagram's launching two new ad options, with Reminder Ads, that enable users to opt into alerts ahead of an event, and ads in search results, helping to better connect with users in a discovery mindset.
Pinterest Expands Idea Pin Video Length to 5 Minutes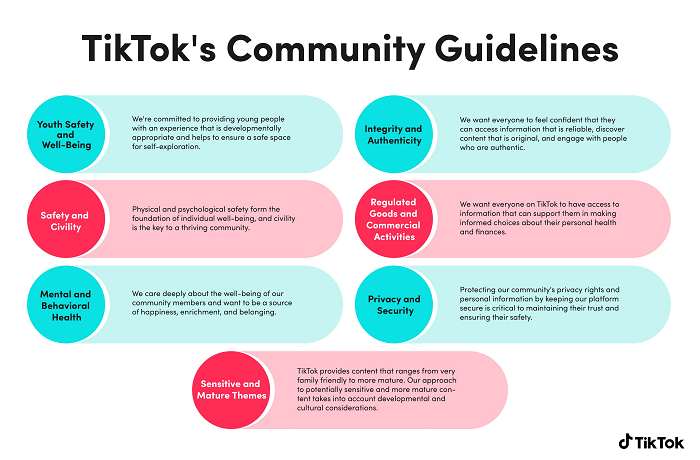 TikTok has announced that it's updated its Community Guidelines, which now includes new provisos relating to synthetic media, hate speech, and election integrity efforts.
Sources:
https://techcrunch.com/2023/02/16/instagram-broadcast-chat-feature-channels/
https://www.socialmediatoday.com/news/Pinterest-Adds-5-minute-video-in-Idea-Pins/642795/
Why should you care

Social Media Consumption Continues to Grow
It's no surprise that social media takes up the greatest share of peoples' daily time. In Latin America and the Middle East & Africa, consumers spend over 3 hours a day browsing through their feeds. While this trend is mostly driven by younger audiences, Gen X/boomers now spend just shy of 2 hours there too. How does this measure when it comes to effectiveness? Occupying a sizable share of consumers' daily time, and reaching 94% of consumers, social media ranks ahead of the competition from all other forms of media in 2022. This is mainly down to social platforms acting as a 'content hub' for all their users' needs.

What does this mean for brands? For one, there's less emphasis being placed on researching products. There's been an 8% drop in consumers saying they do this before buying an item since 2020. We know younger audiences start their search from a place of curiosity and discovery, expecting to be led down a fun rabbit hole of new ideas, rather than directed to a list of brands or products. Therefore, don't use social like traditional advertising. People on Social Media expect to be in control when engaging with a brand. They want to interact on their terms, not be force-fed. People want to be engaged on social like they are with friends, families, and influencers they follow. Brands must follow suit.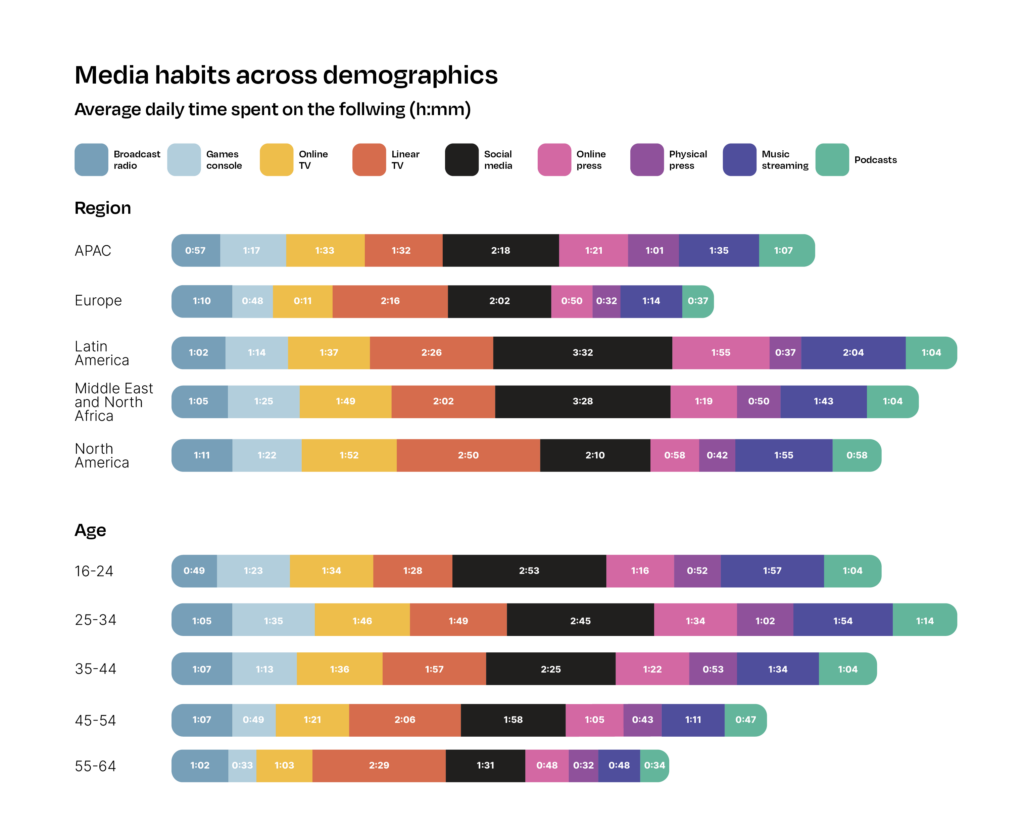 Sources:
GWI, The global media landscape
GWI, connecting the dots
TikTok, AI & Beauty Standards
We've all recently come across the Bold Glamour filter on TikTok. It's an impressive example of how AI-powered face transformations could become harder to detect and more effective at changing appearances. Unlike other filters, the Bold Glamour modifications seem to move with the human face beneath them, common occurrence with other face effects.
Research has shown that the use of beauty filters can have negative effects on mental health by promoting unrealistic body image expectations. A 2021 study conducted by researchers from City, University of London found that 94% of female and nonbinary participants felt pressure to conform to a particular appearance, with 90% admitting to using filters or editing their photos. Another study from 2017 published in the Cognitive Research journal found that people only correctly identified manipulated images around 60-70% of the time. It is not surprising that social media platforms are aware of these issues, as a 2021 report by The Wall Street Journal revealed that Meta, the parent company of Instagram, was aware that the app made one in three teen girls feel bad about their bodies and contributed to higher rates of anxiety and depression among users.
So can it ever be a good thing? Maybe. Inclusive razor brand Estrid's "Perspectives" campaign aims to use AI to generate diverse and inclusive beauty standards, promoting a more inclusive and diverse representation of beauty in the media. The campaign uses machine learning to analyse thousands of images and generate composite faces that represent beauty standards from different cultures and time periods, featuring models with diverse skin tones, facial features, and body types. The goal is to spark a conversation about beauty standards and encourage people to embrace their own beauty.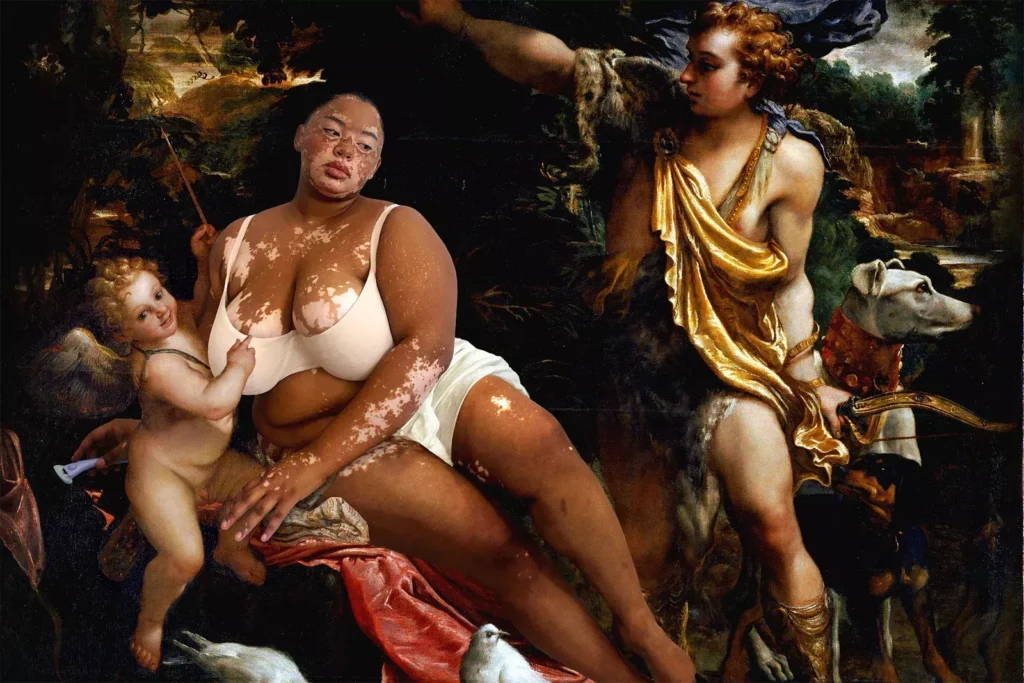 "The capacity to believably manipulate yourself, and soon others, in videos has become commoditized [through this effect], and that is the real jump," he said. "This tech [generational AI] has lived in labs, companies and in more esoteric settings on the web for a while, but now everyone can do it for free and see how it works."
Halsey Burgund, creative technologist at MIT Open Documentary Lab.
Sources:
https://ww2.deloitte.com/au/en/pages/economics/articles/real-cost-beauty-ideals.html
https://ww.glossy.co/beauty/nofilter-2-0-gen-zs-beauty-filter-backlash-is-growing-on-tiktok-and-instagram/
https://ww.theverge.com/2023/3/2/23621751/bold-glamour-tiktok-face-filter-beauty-ai-ar-body-dismorphia
https://ww.washingtonpost.com/technology/2023/03/08/tiktok-bold-glamour-filter-effect-generative-ai/
https://nnpost.com/2023/01/16/ai-generated-party-pics-look-eerily-real-unless-you-can-spot-these-tells/
https://ww.dazeddigital.com/beauty/article/41605/1/ai-beauty-face-scanning
Brand inspiration
March Highlights
Ford shifts toward purpose with 'Euphoria' star Sydney Sweeney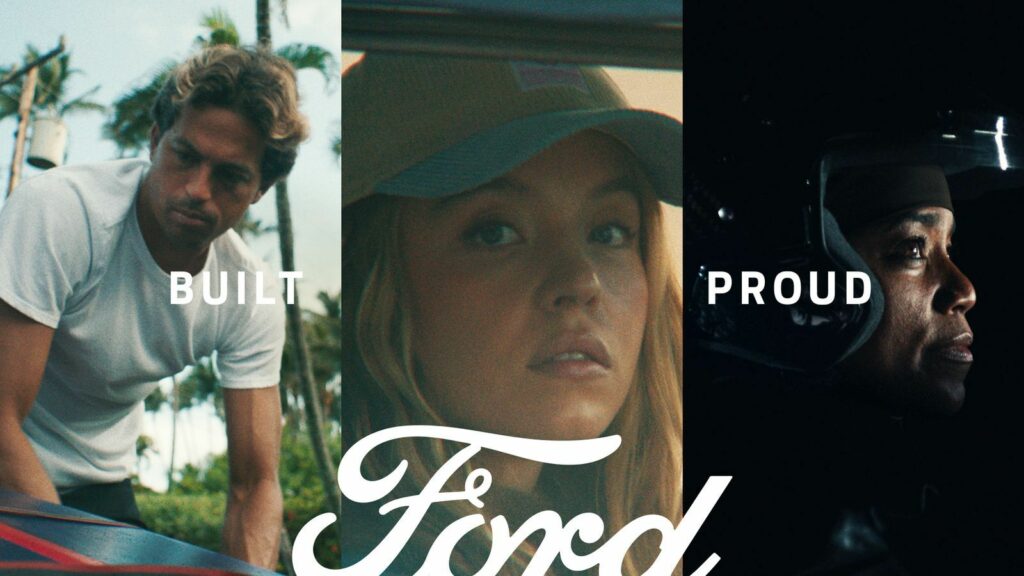 Ford's latest effort sees the carmaker shifting away from its traditional tactics under the "Built Ford Proud" tagline — which has historically focused heavily on Ford vehicles and equipment — to focus more on the people behind the wheel and the causes they stand for.
Stella Artois Crashes Into Dining Trends, Shifts Brand Positioning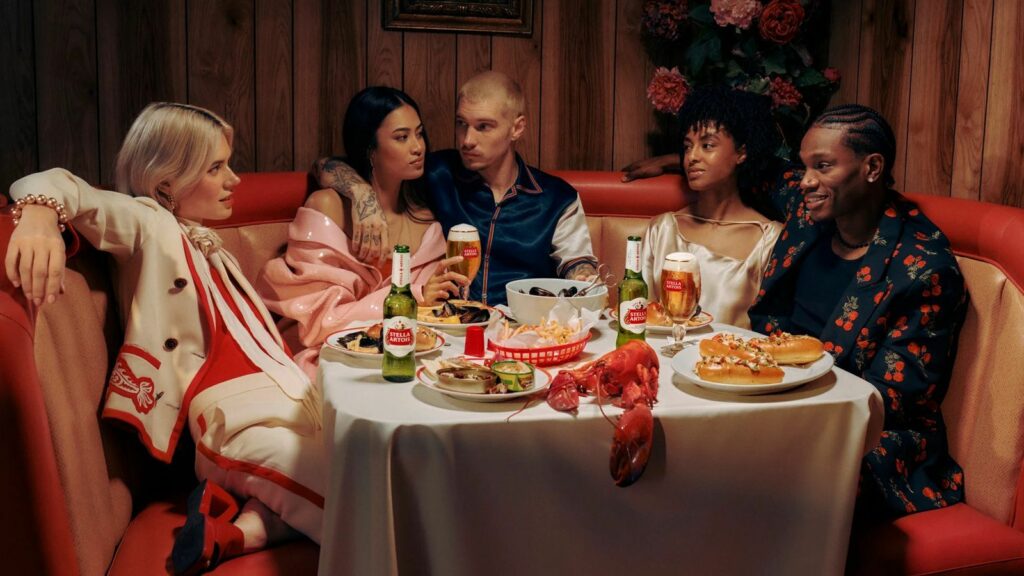 Stella Artois unveiled a new creative direction that both builds on and modernises its "Make Time For The Life Artois" campaign. The campaign puts a fresh spin on Stella Artois' image, leaning into influencer marketing for the first time and selecting talent from multiple fields.
Sources:
https://www.marketingdive.com/news/maybelline-digital-avatar-mascara-metaverse-marketing/643667/
https://www.klarna.com/international/press/klarna-announces-global-campaign-starring-paris-hilton-in-collaboration-with-hiltons-1111-media/
https://www.klarna.com/international/press/paris-hilton-and-klarna-open-house-of-y2k-an-interactive-pop-up-celebrating-the-early-2000s/
Why should you care
The Need for More Inclusive Representation In The Auto Industry
Women influence up to 80% of car purchases, but hyper-masculine car advertisements are a turn-off for them. Unfortunately, the car industry has long been accused of excluding women and other underrepresented groups. The adverts often rely on tired clichés such as mountain roads, nighttime cityscapes, and rugged men looking pensive behind the wheel. Some ads don't even feature a driver, but their tone is unmistakably masculine.

Is change coming? The Automotive 30% Club is pushing for a better gender balance in the industry, with an ambition to fill at least 30% of key leadership positions with women by 2030. Women are also appearing more frequently in car ads, with a 34% increase in the past two years. Furthermore, according to Deloitte's 2020 Women in Automotive Industry Survey, 68% of women have noticed a positive change in the industry's attitude towards women employees in the past five years. Ford recently unveiled a video titled "The Ford Explorer Men's Only Edition" as part of Women's History Month, which playfully removed features developed by women, such as heaters, windshield wipers, and turn signals.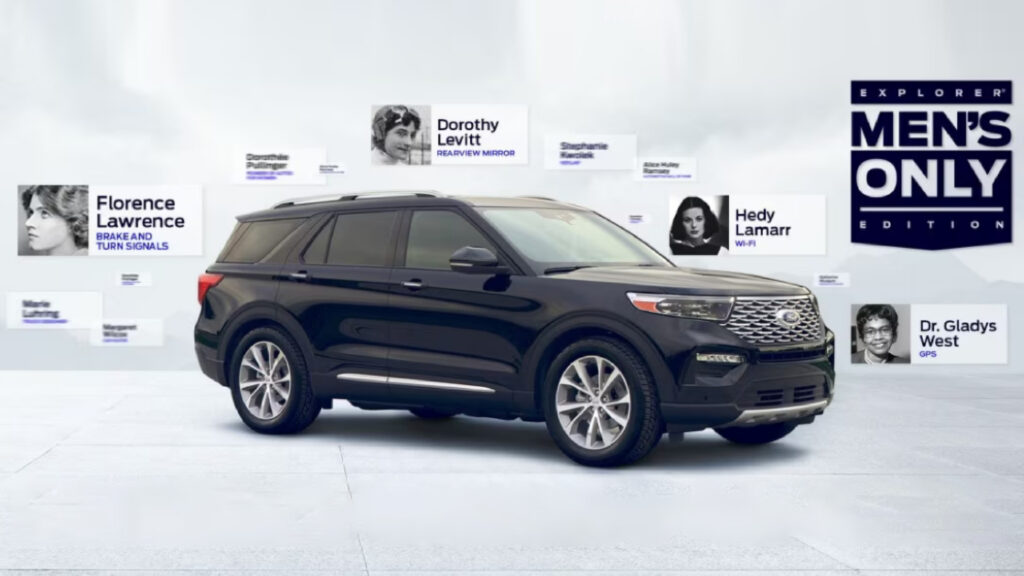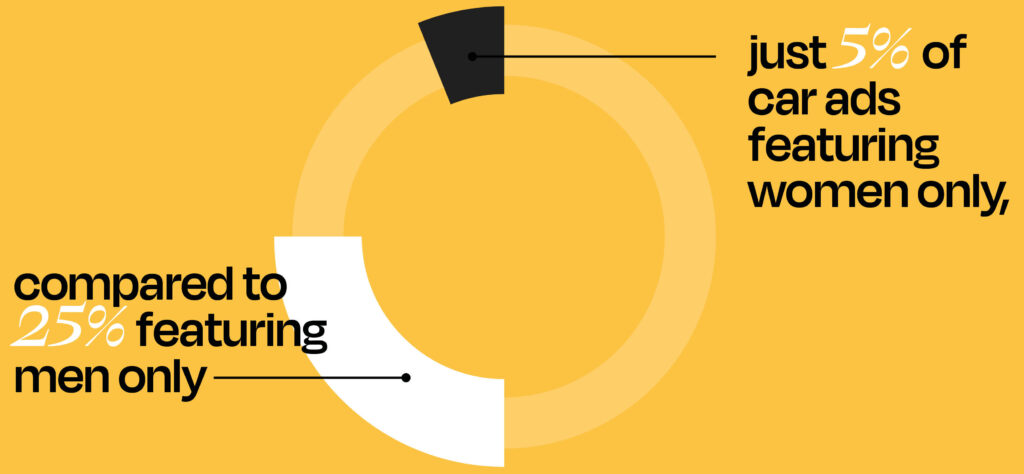 However, the overall portrayal of women in ads is still problematic. In 2022, 66% of the 10,000 ads analysed showed women in domestic or family settings, compared to just 32% in 2021. The percentage of women portrayed in professional settings decreased from 16% in 2021 to just 7% in 2022.

As the car industry strives for further advancement, we must address the issue of representation in advertising. Rather than perpetuating outdated stereotypes of women, we must engage in meaningful conversations that reflect the diverse and dynamic realities of modern womanhood.
The Rise Of Non-Traditional Drinking Venues
This year, expect to witness a rise in the popularity of non-traditional venues for drinking. This trend is already becoming evident as consumers seek out different places and reasons for drinking beyond the typical settings. According to the Bacardi Consumer Survey 2022, cafes have become the preferred venue for drinking cocktails for 25% of U.S. consumers, while almost half of consumers in South Africa (43%) say they are less likely to visit nightclubs for cocktails.
Furthermore, the survey reveals that globally, relaxing with friends or family is the most popular occasion for drinking cocktails, outpacing other events such as happy hours, date nights, and parties. As a result, drink formats are also evolving to cater to the various locations and occasions where people are seeking cocktail experiences. The emergence of canned and pre-batched cocktail options has made it possible for cocktails to be offered in places such as golf clubs, cafes, concerts, and country clubs, expanding the scope of where one can enjoy a drink.
Where are we drinking cocktails?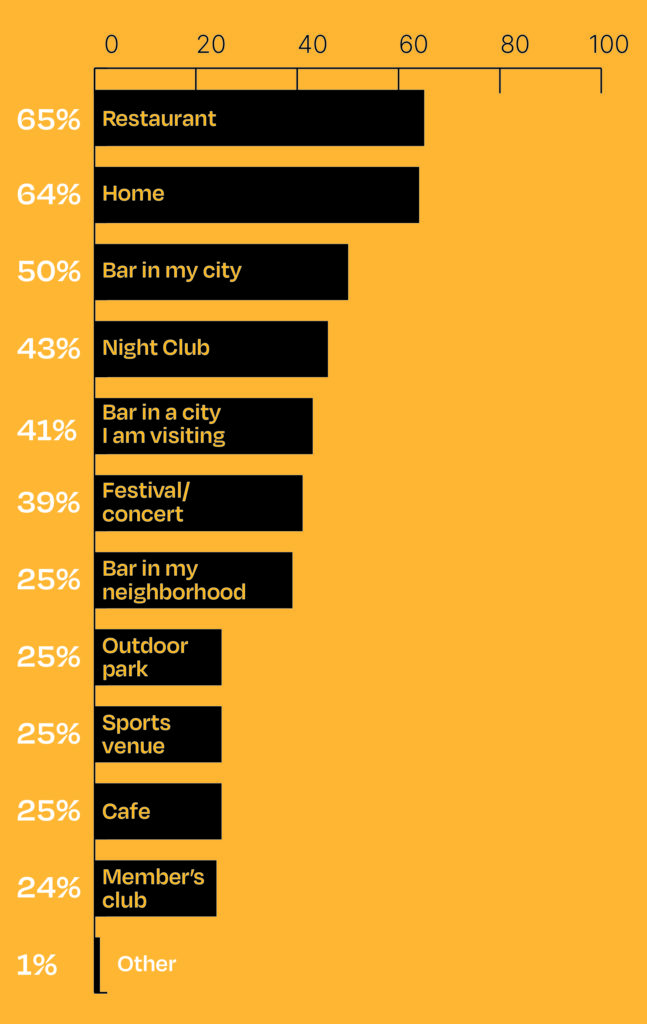 If you like what you read and want to know what else is happening on social, check out last month's WNOS here.